Kit BK45: Düwag Sechsachser Zweirichtungen Gelenktriebwagen
(Duewag 6 axle, double-ended articulated motor tramcar)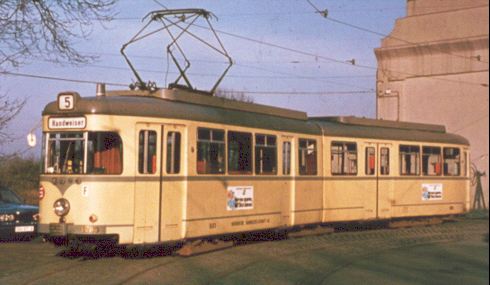 This photo shows an example operated by the Bochum-Gelsenkirchen system.
Brief History
The Düwag factory in Düsseldorf built articulated trams for many systems in Germany between 1957 and 1966.
This model depicts the double-ended six-axle version with the door pattern 2-1-2-1 and equal size smaller windows. Other systems, such as Heidelburg, had the uncommon door pattern 2-1-2-2 with different unequal window spacing.
In 1972 Düsseldorf bought 3 standard gauge versions of these trams from Neuss, when they closed their tramcar system.
Aachen, Belgrad, Bochum-Gelsenkirchen, Geneva, Gent, Hagen, Innsbruck, Lille, Mainz, Mönchengladbach,Wurzburg and the "Vestischen Strassenbahn" had the narrow gauge version (l meter gauge track). Some are still in service.
The Grossraumwagen bogie trailer tramcar, which is available as BEC-KITS 39 Grossraumwagen Beiwagen (Trailer Tramcar) was sometimes towed by these articulated cars.
Some of the 6-axle cars were later rebuilt into 8-axle cars articulated trams for further service, for example in Innsbruck.
Kit special features
This kit has two unmotorised bogies for the main body sections and one lower unmotorised bogie under the working articulation.
It can be motorised with two BEC-KITS motorised MEDUW Düwag bogies, keeping the lower unmotorised bogie under the working articulation.
A working tramcar pantograph is included.
A range of systems is covered on the transfer sheet supplied.
Bibliography
Hoogerhuijs, Herman van't. 1996. Trammaterieel in Nederland en België. (Gent pages 118-120) De Alk bv, Alkmaar. ISBN 90 6013 948 8.
Jacobi, R. and Zeh, D. 1995. Die geschichte der Düsseldorfer Straßenbahn (Pages 223, 231, etc.) EK-Verlag GmbH, Freiburg. ISBN 3-88255-401-0.
Waller, P. 1994. The heyday of the European tram. (Pages 6, 37, 57) Ian Allan. ISBN 0 7110 2274 7
---
| Depot | News | Products | How to buy | Contact us | Links |
Copyright © 1997-2015 BEC-KITS. All rights reserved. Last updated on 2015-10-28<!—$—> by BR.