Kit BK19: U.S.A. P.C.C. streetcar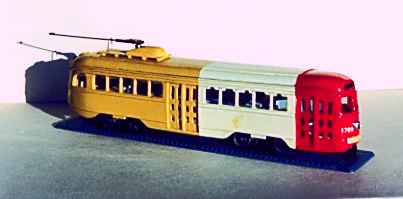 Brief History
This kit represents the U.S.A. P.C.C. air-electric streetcar manufactured by the St. Louis Car Company from 1936-1944, in particular the Pittsburgh 1000-1200 series of P.C.C. cars.
The initials P.C.C. stand for the Presidents Conference Committee, a design group organised during the 1930's by the presidents of many american streetcar companies
Their aim was to design a modern standard tramcar to compete with the emerging threat to public transport of the mass-produced motor car.
The P.C.C. design consisted of over 1000 patents, mainly covering the control and drive system.
Some of the later cars had many variations. For example, some were longer, there were some double ended cars and some cars had standee windows.
The design was very popular in the U.S.A., and was also used in Europe in countries such as Belgium and Czechoslovakia.
Kit special features
This kit has two unmotorised bogies. A matching pair of MEUSA motorised bogies is available separately.
A cast whitemetal trolley pole is supplied.
---
| Depot | News | Products | How to buy | Contact us | Links | Next Kit--> |
Copyright © 1997-2015 BEC-KITS. All rights reserved. Last updated on 2015-10-28<!—$—> by BR.