Kit BKHAU: Hamburg Hochbahn A-Wagen

Brief History of Hamburg Hochbahn A-Wagen Number 220
The Hamburg Hochbahn is an elevated urban railway system on standard gauge track with 750 V power supply. The first cars came into service in 1912 and there were 13 in the first series delivered (1. - 13. Lieferung)
This particular car number 220 has been preserved and was part of the similar 6th series (6. Lieferung) of cars with numbers 201-220 built in 1920/21. Originally they were called T-Wagen (Triebwagen) but later were renamed A-Wagen. These cars usually ran in two car sets.
Originally they were painted in dark green and yellow, but later they were repainted in the red and cream livery also worn by the tramcars in Hamburg.
Many that were damaged during the Second World War were rebuilt into the B-Wagen cars after the Second World War, which later became known as TU1-Wagen cars from 1958.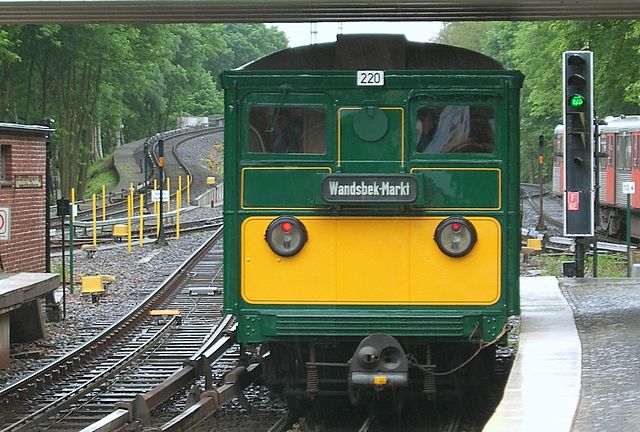 Kit special features
This kit is available in unmotorised form with parts for two trailing bogies with metal wheels.
It can be motorised with either one or two 4 wheel Tenshodo SPUD motorised bogie trucks. They should have 24.5mm wheelbase, 10.5mm diameter wheels, wired for 2 rail current collection and are available from several model shops.
Other Hamburg Hochbahnwagen kits are
Bibliography
Benecke, S. et al. 1999. Die Geschichte der Hamburger Hochbahn. Arbeitsgemeinschaft Blickpunkt Straßenbahn e.V. ISBN 3-926524-16-2.
Gress, Gerhard. 2001. Verkehrsknoten Hamburg. Eisenbahn Kurier Verlag. ISBN 3 88255 269 7.
Höltge, Dieter and Kochems, Michael. 2008. Straßen- und Stadtbahnen in Deutschland. Band 11: Hamburg. EK-Verlag GmbH. ISBN 978 3 88255 392 5.
Schwandl, Robert. 2004. Hamburg U-bahn and S-bahn album. Robert Schwandl Verlag. ISBN 3 936573 05 0. Page 82
Wikipedia entry about U-Bahn vehicles (fahrzeuge) on U-Bahn Hamburg
Download instructions
---
| Depot | News | Products | How to buy | Contact us | Links |
Copyright © 1997-2018 BEC-KITS. All rights reserved. Last updated on 2019-02-06